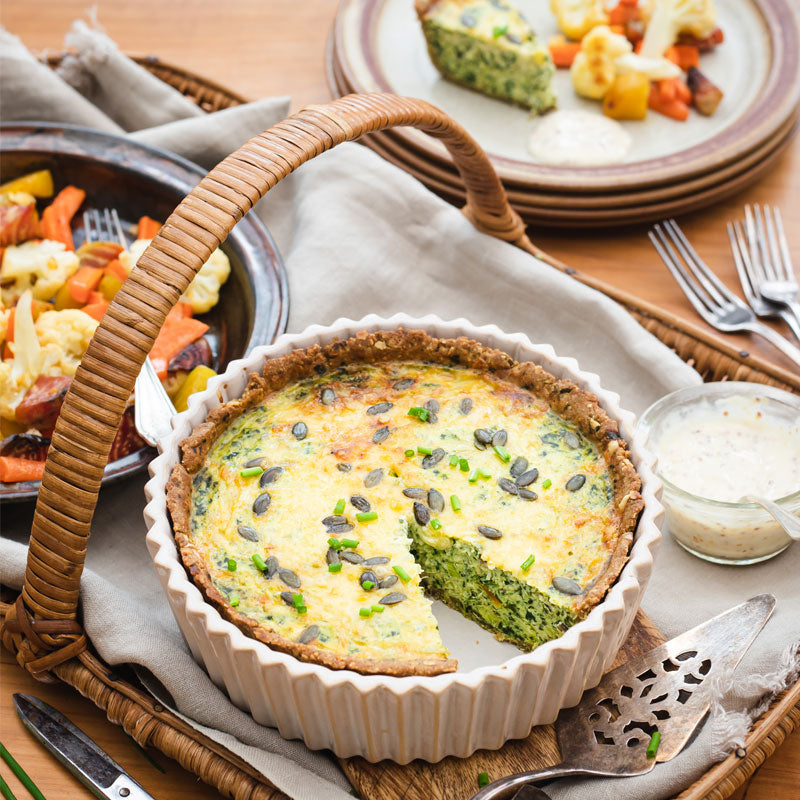 Herb & Ricotta Quiche with Oat & Seed Crust by Nicola Galloway
Cook time: 35 minsPrep time: 20 minsServes: 6
Recipe by Nicola Galloway - extract from The Homemade Table cookbook.
I make quiche all year round, but particularly enjoy making it in late spring and summer to take on picnics or dinner at the beach with a packed salad. It also makes a great potluck/shared kai offering. The oat and seed crust comes together easily and requires no rolling; simply mix and press into the dish. 
Anything goes for the green component of this quiche – broccoli, spinach, silverbeet, mix up the herbs. And the ricotta can be replaced with 150g feta and 100g cream for a different taste and texture. Make it your own using the quantities below as a guide.
Method
Preheat the oven to 190°C (fan 170°C). Generously grease a 25cm quiche dish.
Place the flour, oats, seeds and salt in a food processor and blend until roughly ground. In a small jug, whisk together the olive oil or melted butter and the egg. Add to the food processor and pulse briefly until the mixture comes together. Press the mixture between your fingers – if it holds together without crumbling, it is ready. If the mixture is dry, add a squeeze of lemon juice and pulse again to combine.
Tip the dough directly into the greased quiche dish and press evenly into the base and sides. Pre-bake the crust for 10 minutes.
Prepare the filling. Heat the olive oil in a heavy-based frying pan over a moderate heat. Add the onion and sauté for 5–6 minutes until softened. Wash the spinach, shake off the excess water and roughly chop. Add to the pan, and cover with a lid. Cook for 5 minutes until the spinach is wilted, then remove from the heat. 
Place the eggs, ricotta, lemon zest, herbs, and seasoning in the food processor (there is no need to clean it after making the base). Add the cooked greens and blend until smooth. Pour the green custard into the pre-baked quiche base. Sprinkle with grated cheese and pumpkin seeds.
Bake for 25–30 minutes until the custard is just set. Cool for 10 minutes before cutting into wedges, or serve cold.