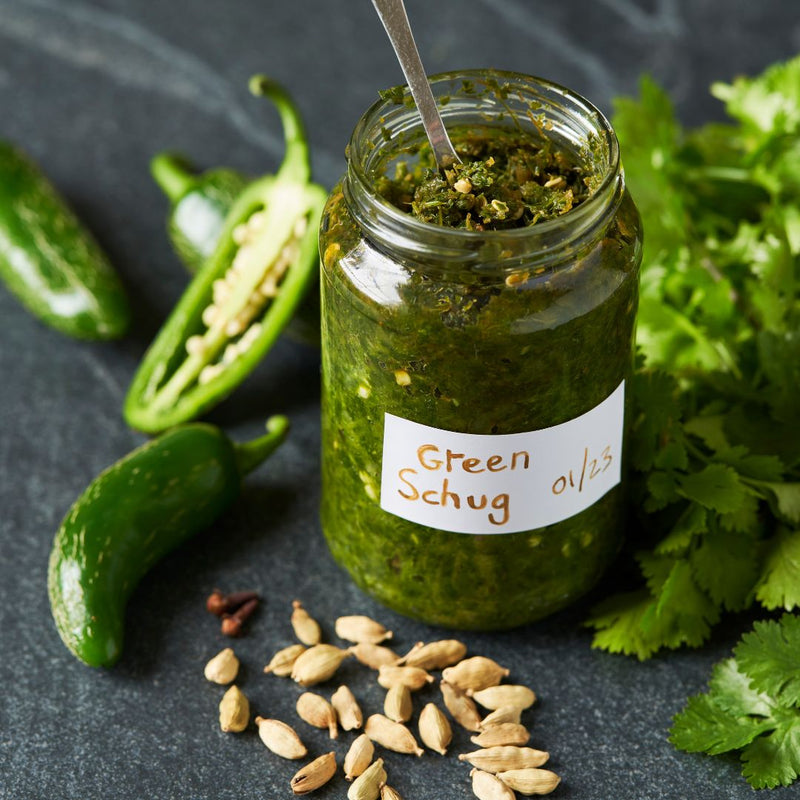 Yemeni Green Schug
This recipe is contributed to us by the clever folk at Pakaraka Permaculture Garden. Niva & Yotam Kay have just released their new book The Abundant Kitchen, and we're very proud to be stocking it.
Green schug was the hot condiment of Niva's childhood. Niva's grandma, Hava, would go to the market to buy the fresh coriander and chilli to make green schug as tradition requires, at home. Growing up, we would add green schug to anything and everything, from soups, to omelette batter, in cheese sandwiches and, most importantly, mixed with grated tomato on the Saturday mornings when Niva's father Eitan baked Kubaneh. Of course, green schug was also part of a quick lunch with flaky malawah and other Yemeni pastries and dishes. 
The exact ingredients of schug change from family to family. This recipe is based on what Niva recalls from her grandma's recipe, along with what others who have made schug with her shared with us. This recipe makes approx 300ml. 
Ingredients
2 heads garlic 
4–5 green chillies (we use jalapeños) 
2 large bunches of coriander (approximately 180g/6¼ oz), roughly chopped 
Method
Place all the ingredients in a food processor, and pulse until the ingredients are evenly ground into a slightly chunky mixture. 
Place the schug that you won't be using on the day in a container with a tight lid. Kept in the fridge, schug will store well for up to 2 months. During this time, due to oxidation, the colour will change from light green to a dull dark green.