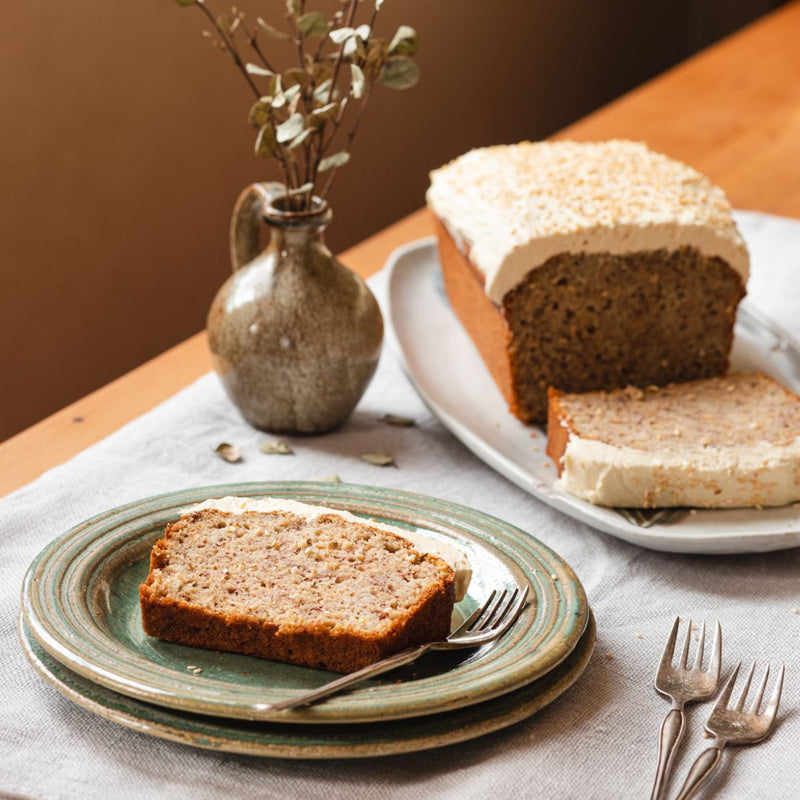 Banana & Sesame Loaf with Tahini Buttercream
Cook time: 45 mins
Recipe by Nicola Galloway - reproduced with permission from Nicola's website Homegrown-Kitchen.co.nz 
This banana loaf combination is inspired by a favourite childhood snack: banana slices dipped into tahini. The icing is quite literally the 'icing on the cake' here, it adds something a little different with the decadence that is buttercream. To account for the sweet icing I have kept the sugar in the loaf quite minimal. If you are not using icing, and like your banana loaf on the sweeter side, then increase the sugar quantity to half a cup. 
*A note on flours - as I outline in the ingredient list different flours can be used here, noting that it is always best to use the weight rather than volumes when subbing flours, particularly gluten-free flours as they can vary in volume compared to plain wheat flour.
Method
Preheat the oven to 180ºC (fan 160ºC). Grease and line a loaf tin (or use a 20cm round cake tin). 
In a mixing bowl, mash the bananas until smooth. Add the eggs, sugar, oil and vanilla and beat together until combined. 
Measure the remaining dry ingredients into another bowl and use a whisk to combine and remove any lumps. Add this to the banana batter and use a spatula to fold together until just combined. Don't over mix, give this batter similar treatment as you would muffin batter. 
Pour into the prepared tin and bake for 50-55 minutes until an inserted skewer comes out clean. Check after 40 minutes and if the top of the loaf is nicely coloured cover with foil for the remaining cooking time. 
Once baked, cool in the tin for 10 minutes then transfer to a rack. If planning to ice the cake, set aside to cool completely.
To make the tahini buttercream, place the butter and tahini into a stand mixer with the whisk attachment (or use an electric handheld beater). Beat together on a medium-high speed until creamy, about 3 minutes. Add the vanilla and salt, continue mixing for another minute. 
Sift the icing sugar into a bowl to remove any lumps (important step). Then with the mixer on a medium speed add one heaped tablespoon of the icing sugar at a time until smooth and fluffy. Scrape down the sides as needed.
Use a sharp knife to trim the top of the cake to make it slightly less domed (the offcuts are cooks treat). Spoon the buttercream onto the cooled loaf, using a butter knife or offset spatula to spread evenly out to the sides. Sprinkle with toasted sesame seeds and serve. 
Leftover cake will last for 2-3 days in a sealed container, best kept at room temperature.