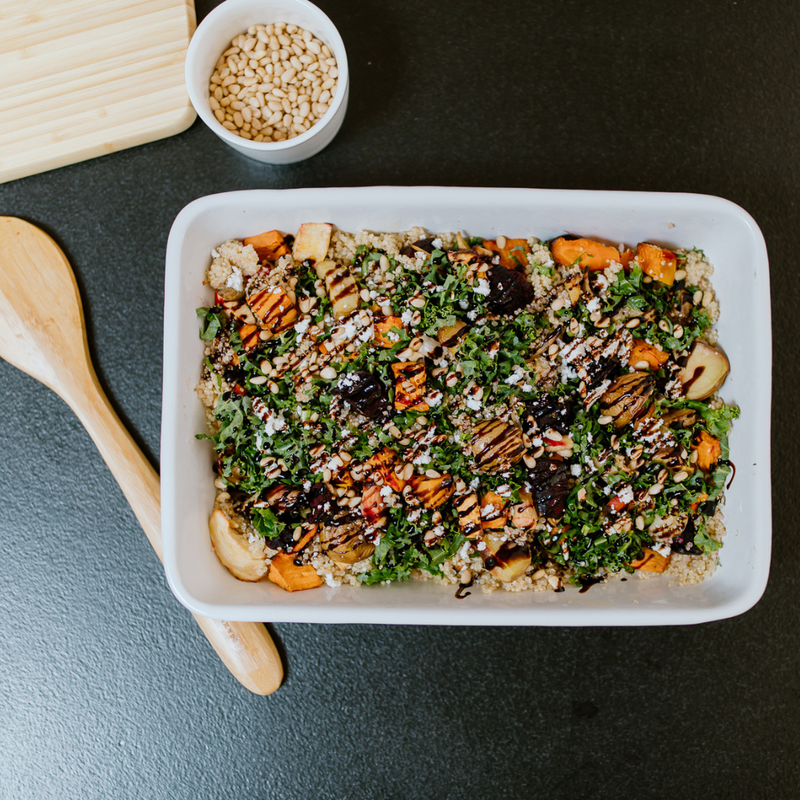 Decadent Roast Veggie Salad
Cook time: 30 minsPrep time: 10 mins
Meet your new favourite healthy yet heart-warming meal! Made with quinoa, herbs, pine nuts, and goat's cheese. This indulgent dish is the perfect warmer coming into the cooler months.
Using seasonal veggies this salad lets you support local farmers by purchasing in-season for a dish the whole family can enjoy. It's also a perfect way to use your CaliWoods Reusable Baking Mats for a no mess and no waste way to cook your roast veggies.
Ingredients
1 cup of seasonal roast veggies
2 cups of water
1 cup of seasonal greens
Half a block of Goats cheese
Chopped fresh herbs
Olive oil and ACV dressing 
Balsamic glaze to finish
Method
Roast the veggies in the oven for 30 minutes at 180°C using a large baking tray and your CaliWoods Reusable Baking Mat
While roasting the vegetables, cook the quinoa combining it with water in a medium pot - bring to a boil, cover, reduce the heat, and simmer for 15 minutes
Once prepped, mix the roasted veggies, quinoa, and greens in a large serving dish 
Break up the goat's cheese then sprinkle on top
Chop up the herbs, we love basil and rosemary with this dish! Then sprinkle these and the pine nuts onto your salad
Dress with Olive oil and ACV dressing, then add a generous amount of balsamic glaze to finish before serving.
Photography by Caliwoods