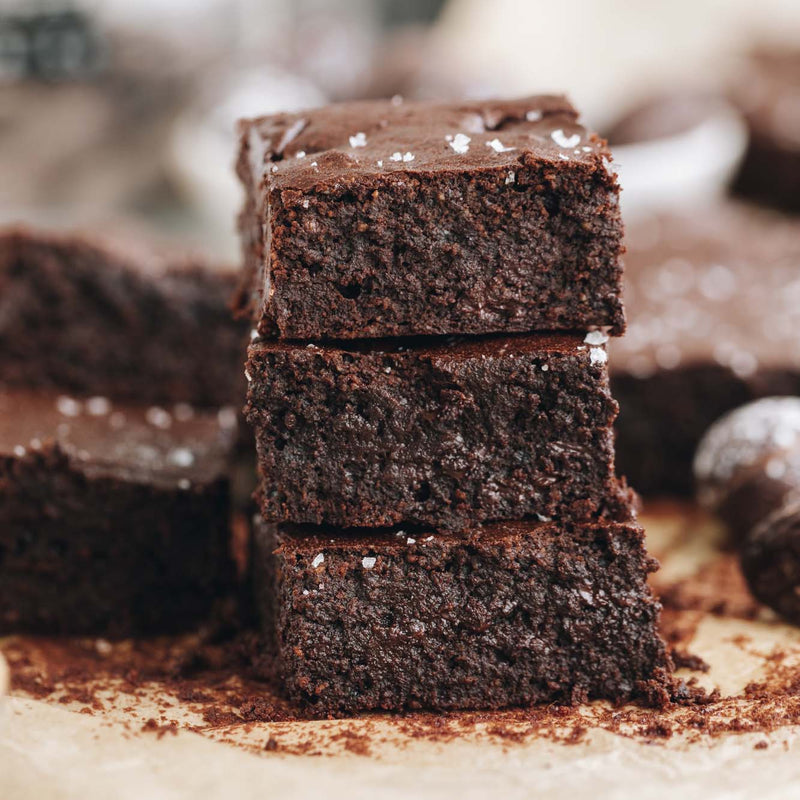 The BEST Fudgy Chocolate Brownies
Makes: 18 pieces
Who doesn't love a good fudgy brownie? These aren't just your standard bakery brownie either!  They're rich and chocolatey but not too sweet and the perfect fudgy texture that's great warm from the oven or eaten from the fridge, slightly cool. What's even better is that they're made using wholesome, everyday ingredients and are free from dairy and refined sugar. 
To make gluten free, simply swap the 00 baker's flour for gluten free flour.
Download Printable PDF Version
Ingredients
¼ C brown rice syrup*

3 eggs

1 Tbsp instant coffee 
Method
Preheat the oven to 170 degrees. Line a 20cm x 20cm baking tray with parchment paper and set aside.
Melt half of the chocolate buttons over a bain marie or in the microwave and chop the other half and set aside.
In a large bowl, add the melted coconut oil, rice brown syrup, eggs and vanilla and whisk to combine. Once the melted chocolate has cooled for 5 minutes, add to this mixture along with the coconut sugar and combine.
Add the almond meal, 00 baker's flour, cacao powder, baking powder, coffee and flaky sea salt to the bowl and stir to combine. Carefully add the chopped chocolate and fold through but don't overmix. 
Pour into your prepared dish and bake in the oven for 22-24 minutes.
You can test if it's ready by using a toothpick or skewer and inserting it into the middle of the brownie - it should still be slightly gooey but the edges should be able to pull away from the side of the dish. You don't want to overcook it or it won't stay a fudgy texture once cool.
Place on a cooling rack and allow to cool. Store in the fridge. 
*Item not available online but is available in your local GoodFor store.
Photography by Sarah aka @thesaarahproject.