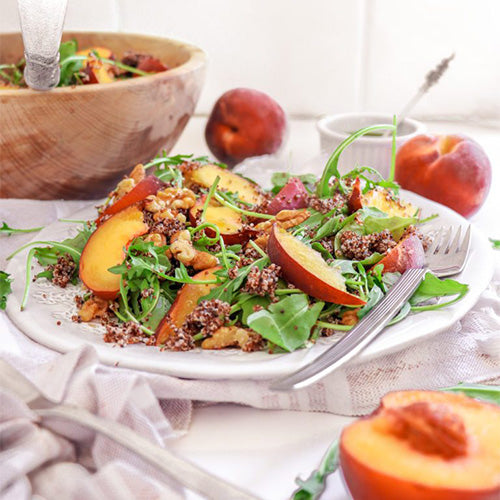 Peach and Walnut Salad
Prep time: 15 minsServes: 1
Summer is well and truly here and that means warm weather, days at the beach and time spent in the sun. What better way to fuel adventures or feed the family than with a fresh and satisfying salad? This beaut recipe is packed with juicy peaches, crisp rocket, crunchy walnuts, tangy lemon and nutty canihua (aka baby quinoa!). So not only is this super salad packed with texture and flavour but it also packs a nutritional punch and will give you the energy you need to make the most of these sun filled days!
Ingredients
4 cups fresh rocket
2 ripe peaches, sliced
Maple Balsamic Dressing

5 tbsp extra virgin olive oil*
2 tbsp pure maple syrup*
1 tbsp balsamic vinegar*
2 tsp lemon juice 
Method
Toss the rocket and quinoa in a large salad bowl then fold in the walnuts and peach slices.
To make the dressing, whisk all the dressing ingredients together in a bowl.
Pour the dressing over the salad and enjoy.