Ethique - Discovery Pack - Body Care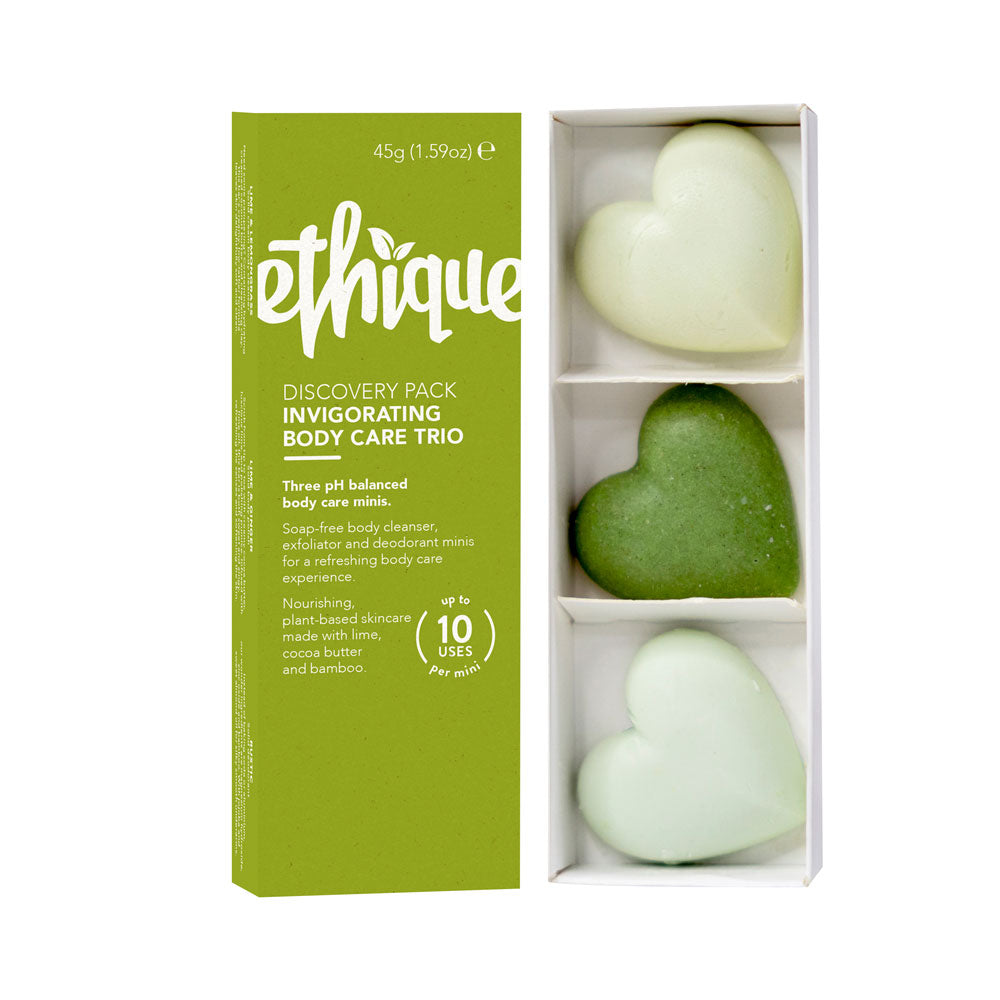 Ethique - Discovery Pack - Body Care
Stock Availability
Ethique - Discovery Pack - Body Care
PRODUCT INFORMATION
About
Looking to give up the bottle but not sure which Ethique products are best for you?
These Discovery Packs are a great way to test out some of our different products and find your perfect match before committing to the full size. This Discovery Pack contains three refreshing minis from our body care range: a soap-free body cleanser, an exfoliating body polish and an aluminium-free deodorant.  Contains three plastic-free minis from our award-winning solid body care range for fresh, clean skin.
Contains two soap-free and pH balanced mini shampoo bars, and one mini conditioner bar from our award-winning haircare range for smooth & soft hair.
Lime & Lemongrass solid cream body cleanser contains hydrating creamed coconut butter and cleansing clay. This bar's creamy, low-lather formula leaves skin delightfully soft and clean.  
Lime & Ginger solid-body polish scrubs from tip-to-toe with creamy cocoa butter, luscious lime, and polishing pumice. Infused with lime oil, this bar is both sweet and zingy, refreshing the senses and softening the skin.
Rustic deodorant is formulated with magnesium hydroxide, zinc oxide and bamboo, instead of baking soda or aluminium. Jojoba and sweet almond oil also feature for silky smooth underarms.
Uses
Each mini lasts up to 10 uses.
Information
Storage: Keep dry between uses.
Country of Origin: New Zealand
Are we missing anything?
If you think we should stock something that we don't already, let us know – we really appreciate good advice.