White Fragrant Jasmine Rice - Organic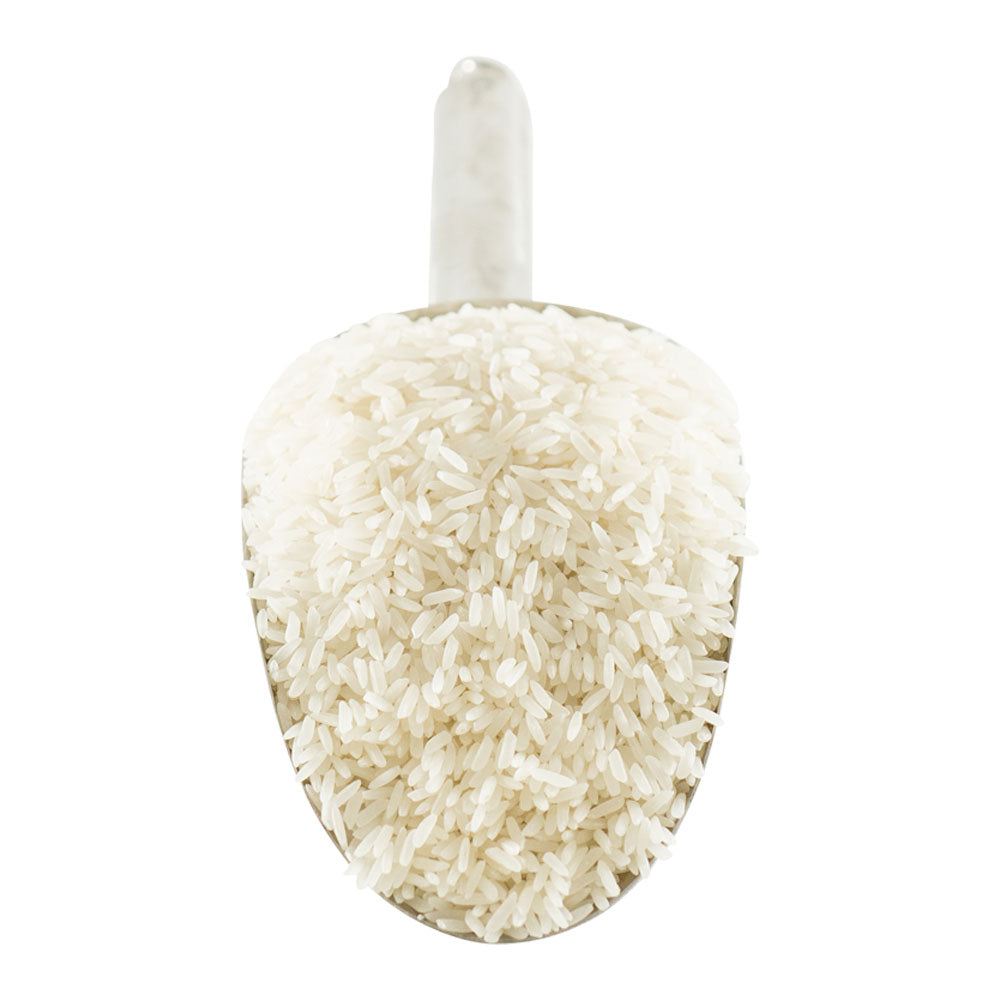 White Fragrant Jasmine Rice - Organic
Stock Availability
White Fragrant Jasmine Rice - Organic
PRODUCT INFORMATION
About
Jasmine rice, also known as Thai fragrant rice, is distinguished by its smooth, silken grains and lovely rich aroma. When cooking, this long grain rice turns into fluffy, slightly chewy, well-formed grains with a subtle, nutty flavour that is very pleasing to the palate. Fragrant white jasmine rice is a versatile pantry staple that can be served as a side dish or an addition to all your favourite rice-based recipes. It is rich in B vitamins, which are building blocks for keeping your body cells healthy, as well as dietary fibre, which will help keep your digestive system and gut health at its best.
Uses
Before any method of cooking your jasmine brown rice, make sure it is fully rinsed to remove any natural starches. The trick to cooking jasmine rice well is using minimal water so that the rice is steamed rather than boiled. However, if boiling, use a 1:1.5 ratio of rice to water and bring to the boil in a covered pot. Once boiling, turn down the heat to simmer for about 20 minutes until the rice is cooked through. Drain then gently fluff with a fork and cover to rest for about 5 minutes before serving.
Serve fragrant jasmine white rice as a side dish or as a bed for your homemade curries, stews and slow-cooked meals. Use it in Mexican cooking, either as a base for your chilli or to fill out your tacos, burritos and fajitas. Cook it as you would cook your oats to make into a porridge, adding your favourite sweetener, yoghurt and fresh fruit for breakfast. Make it into a lovely sweet rice pudding for breakfast, snacks or dessert.
Information
Ingredients: Organic Jasmine White Rice
Allergens: No known allergens.
Storage: Store in a cool, dry place away from direct sunlight.
Shelf Life: Up to 24 months when stored as above.
Country of Origin: Thailand
Nutrition Information
Nutrition Information
Serving size
50g
average quantity per serving
average quantity per 100g
Energy
735kJ
1470kJ
Protein
3.4g
6.7g
Fat, Total
0.4g
0.8g
-saturated
0.2g
0.3g
Carbohydrates
39.7g
79.4g
-sugars
0.0g
0.0g
Sodium
0.0mg
1.0mg
Are we missing anything?
If you think we should stock something that we don't already, let us know – we really appreciate good advice.