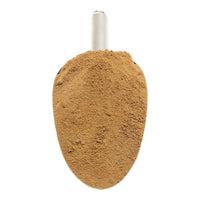 Stock Availability
PRODUCT INFORMATION
About
Rapadura sugar is made simply from the juice of organically grown sugar cane, using a traditional handcrafted process involving boiling the juice and constantly stirring it for hours until it thickens. The molasses of the sugar cane juice is not separated during this process, and no chemicals are involved. With its unique caramel flavour, rapadura sugar delicious in baking or as an alternative to refined sugars in any recipe where additional sweetness is required.
Uses
Rapadura sugar is less refined than white sugar and has a yummy taste, perfect for sweetening up hot beverages and baked goods, as well as savoury dishes that need a little contrasting sweetness. Add a teaspoon of rapadura sugar to tea, coffee, hot chocolate and other superfood lattes. Sprinkle it over steaming porridge, granola, muesli, bircher, rice puddings and chia puddings. Use rapadura sugar instead of white or raw sugar in many sweet and savoury recipes, simply adopting a 1:1 substitute ratio. However, note that rapadura sugar may not be suitable for lighter recipes, such as meringues, due to its higher molasses content. Instead, use it as a caramelising sugar.
Information
Ingredients: Organic Rapadura Whole Cane Sugar
Allergens: No known allergens.
Storage: Store in a cool, dry place away from direct sunlight.
Shelf Life: Up to 12 months when stored as above.
Country of Origin: Brazil
Nutrition Information
Nutrition Information
Serving size
5g
average quantity per serving
average quantity per 100g
Energy
80.0kJ
1600kJ
Protein
0.0g
0.0g
Fat, Total
0.0g
0.0g
-saturated
0.0g
0.0g
Carbohydrates
4.8g
95.0g
-sugars
4.7g
94.0g
Sodium
0.0mg
0.0mg
Are we missing anything?
If you think we should stock something that we don't already, let us know – we really appreciate good advice.