Inspiring Books for a Waste Free 2019
Zero Waste Home: The Ultimate Guide to Simplifying Your Life by Reducing Your Waste
Zero Waste Home is the ultimate guide to simplified, sustainable living from Bea Johnson, "the priestess of waste-free living" according to The New York Times. Bea Johnson transformed her family's health, finances, and relationships for the better by reducing their waste to an astonishing half litre per year. It's all down to the 5 Rs: Refuse, Reduce, Reuse, Recycle, Rot (and only in that order!). Zero Waste Home shows how these key principles can be applied to every area of your house from the kitchen to the kids' room, and it's packed with easy tips for all of us: from buying in bulk and clever meal planning to simply refusing unwanted freebies and using your plants as air fresheners. Bea Johnson shows, by inspiring example, what green living looks like and offers a practical, step-by-step guide to diminishing your environmental footprint and improving your life.
How to Live Plastic Free
How to Live Plastic Free will teach you everything you need to know about reducing your plastic usage on a daily basis. The chapters start with a typical morning routine and take you through your day, giving you tips and practical advice for removing unnecessary plastic at every possible opportunity. From the moment you wake up to the time you go to bed, you will learn how easy it can be to use plastic-free cosmetics, how to have plastic-free mealtimes, how to change your shopping habits and how to consider your use of plastic items at work. These simple, practical methods will show that small changes to your lifestyle can make a huge change to the future of our planet.
No Impact Man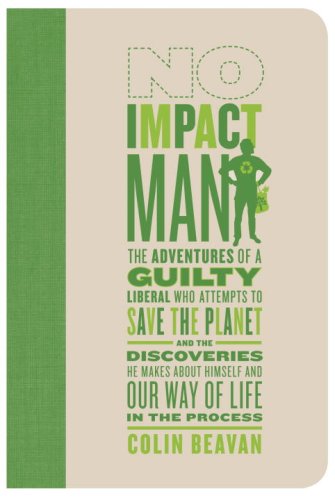 In the growing debate over eco-friendly living, it seems that everything is as bad as everything else. Do you do more harm by living in the country or the city? Is it better to drive a thousand miles or take an airplane? In No Impact Man, Colin Beavan tells the extraordinary story of his attempt to find some answers – by living for one year in New York City (with his wife and young daughter) without leaving any net impact on the environment. His family cut out all driving and flying, used no air conditioning, no television, no toilets… They went from making a few concessions to becoming eco-extremists. The goal? To determine what works and what doesn't, and to fashion a truly 'eco-effective' way of life.
The Story of Stuff

Annie Leonard offers an astonishing, galvanizing book that tells the story of all the 'stuff' we use everyday – where our bottled water, mobile phones and jeans come from, how they're made and distributed, and where they really go when we throw them away. Our out-of-control consumption habits are killing the planet and threatening our health, but Annie provides hope that change is within reach.
Turning the Tide on Plastic
Plastic flows into our lives from every direction and most of it is not recycled. Instead it is incinerated or ends up in landfill, where it will sit for hundreds of years, or enters the world's seas where it fragments into tiny pieces to become microplastics. Many of us had assumed that governments, brands and waste authorities were dealing with plastic on our behalf. If there were plans and strategies, they have not worked as we imagined. It would be easy to feel despondent but instead we need to turn our anger and emotion into action, starting by making a big dent in our own enormous consumption.
Turning the Tide on Plastic is an accessible guide to help us take decisive and effective personal action to end the plastic pandemic. When we consider our power as influencers – whether at school, the hairdressers, at work or on the bus – we suddenly become part of something significant.