Golden Inca Berries - Organic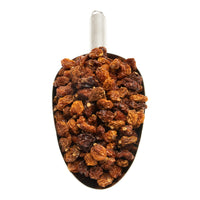 Golden Inca Berries - Organic
Stock Availability
Golden Inca Berries - Organic
PRODUCT INFORMATION
About
Organically grown golden inca berries have been carefully picked then naturally sundried with no preservatives or sulphites added to create these delightfully chewy, tangy morsels. Commonly known in NZ and Australia as cape gooseberry, this Peruvian 'superfood' has a seedy centre that bursts with a mouth-puckering tart, citrusy flavour. Golden inca berries make a delicious snack and are versatile in many sweet and savoury recipes.
Uses
Enjoy these tasty, tangy morsels on their own or mixed in with other nuts, seeds and dried fruits into a delicious scroggin mix. Sprinkle them over porridge, granola, muesli and smoothie bowls. Golden inca berries are also a tasty addition to many raw and baked goods like energy bars, bliss balls, muffins and loaves. These energising Chewy Millet Snack Bars are full of wholesome nuts, seeds and dried fruits, including golden inca berries.
Information
Ingredients: Organic Goldenberries
Allergens: No known allergens.
Storage: Store in a cool, dry place away from direct sunlight.
Shelf Life: Up to 12 months when stored as above.
Country of Origin: Peru
Nutrition Information
Nutrition Information
Serving size
25g
average quantity per serving
average quantity per 100g
Energy
55.0kJ
220kJ
Protein
0.5g
1.9g
Fat, Total
0.2g
0.7g
-saturated
0.0g
0.0g
Carbohydrates
2.8g
11.2g
-sugars
2.3g
9.0g
Sodium
6.0mg
25.0mg
Golden Inca Berries
A delicious treat with no preservatives or sulphites! Perfect to add to my muesli every morning. Great service and quick delivery.
Are we missing anything?
If you think we should stock something that we don't already, let us know – we really appreciate good advice.