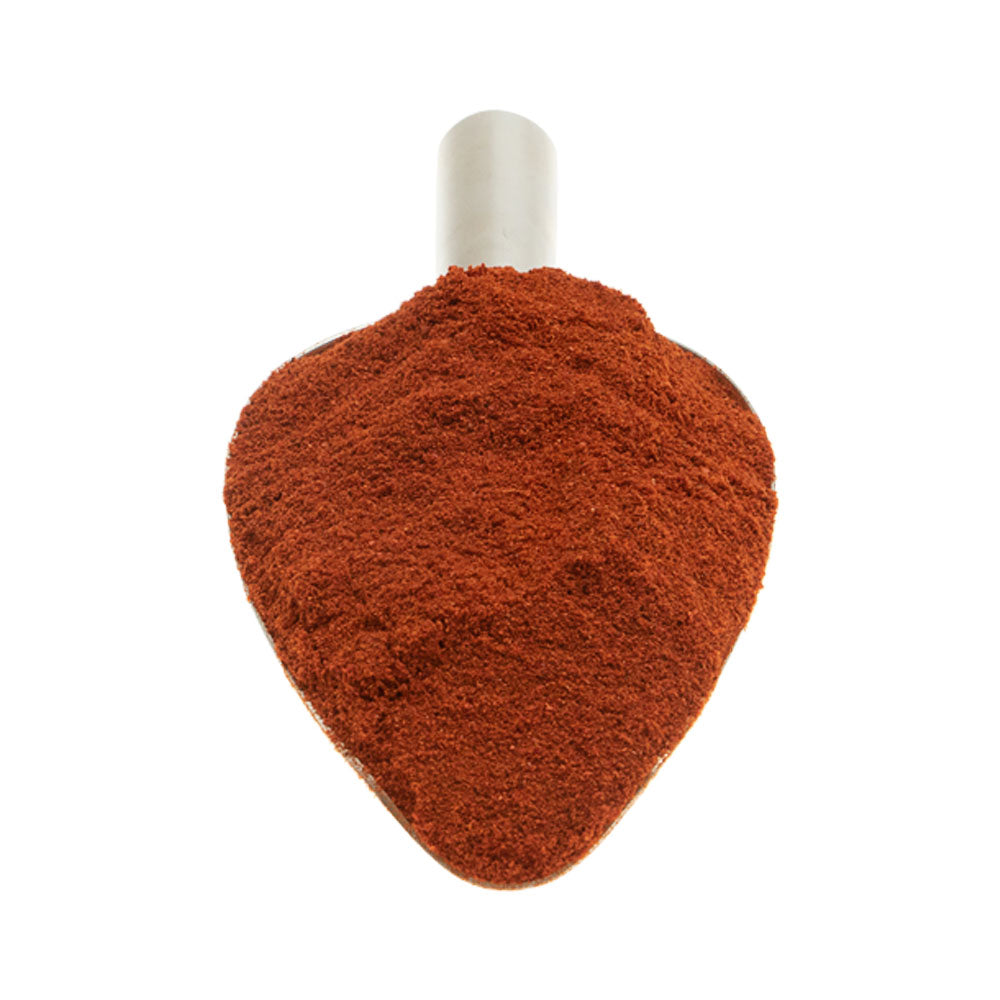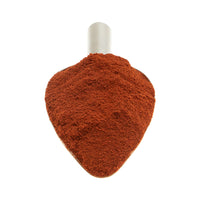 Stock Availability
PRODUCT INFORMATION
About
Paprika is a spice made from fruits of the chilli pepper family. Although paprika is often associated with Hungarian cuisine, the chillies from which it is made are native to Spain and Portugal. Spanish pimenton, as it is known there, is often smoked giving it a unique, earthy flavour and a very red colour. Paprika is used to add colour, flavour and a little heat to many types of dishes. Paprika is very nutrient dense, particularly rich in vitamins and essential minerals.
Uses
Paprika is a key spice for flavouring Spanish and Mexican dishes, soups, stews and sauces. It has been used for centuries in traditional paella recipes and is now also commonly used to make Mexican chilli mixes, like this Black Bean Chilli w Cashew Cream. It can be used alongside other herbs, spices, salt and pepper to coat meat, fish and vegetables before cooking, or it can be sprinkled raw on foods as a garnish. Paprika is a delicious base flavour in dressings, dips and hummus. It is also super tasty when sprinkled over vegetables or chickpeas before roasting them in the oven, like in these Chickpea Lettuce Cups or this Sorghum Roast Vege Salad.  Paprika is also commonly used in Moroccan-inspired dishes to provide depth of flavour and a little warming spice. This Moroccan Spiced Millet bowl is a quick weeknight dinner that'll warm your soul. The flavour and spice of paprika is further enhanced when it is heated. 
Information
Ingredients: Ground Paprika
Allergens: No known allergens.
Storage: Store in a cool, dry place away from direct sunlight.
Shelf Life: Up to 12 months when stored as above.
Country of Origin: Spain
Great Quality and cheaper than the stores
This is way better than what you find at the supermarket in my opinion, and per gram, alot cheaper, and no guilt packaging that I re use mostly (for AGES). Means I could buy more and it looks great in brilliant in a glass jar in the pantry.
Are we missing anything?
If you think we should stock something that we don't already, let us know – we really appreciate good advice.