Mother Made - Relax Capsule (60)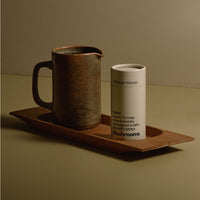 Mother Made - Relax Capsule (60)
Stock Availability
Mother Made - Relax Capsule (60)
Select from the Mother Made range
PRODUCT INFORMATION
About
Life is hectic. Do you struggle to wind down at the end of the day? Or have trouble clearing your busy mind? Is your sleep always broken? Or are you suffering from nerves and stress? Wouldn't it be great if we could just take a chill pill?

Meet reishi.

Loved by ancient herbalists for its powerful adaptogenic qualities. Reishi is used to help ease stressed and anxious minds, encourage deep sleep, support the immune system and settle nerves.
450mg per capsule.
Uses
Take 1-2 capsules daily.

Information
Ingredients: 100% Reishi

Allergens: No known allergens
Country of Origin: Made in New Zealand with ingredients from China.
Storage: Store in a cool, dry place away from direct sunlight.

Shelf Life: Up to two years.
Are we missing anything?
If you think we should stock something that we don't already, let us know – we really appreciate good advice.